Open Friday, Saturday, Sunday & Monday from 10am through school terms & 7 days a week on school holidays!
Days with high temperatures we may close earlier for the health & safety of our staff & patrons please check and book a session online to avoid disappointment. 
Please call or email info@jumpandclimb.com.au for school group bookings 🙂
Welcome to                                                                                         

Gippsland's only Indoor Trampoline & Clip n' Climb Park!!
In addition to a world full of trampolines & climbing walls, our park has 50 trampolines including Australia's biggest trampoline 5 meter x 5meter &16 Clip n 'Climb climbing walls, whether you like to beat your mates in a game of dodgeball, run the wall in our High Performance area, jump into our huge airbag or have  free jump time in our jump arena or clip up & challenge yourself on our climbing walls. Our park surely has it all!
we cater  for individual bookings, School groups, Social clubs, Sporting clubs, Birthday parties & more
Bookings are highly recommended , please click the book now button to book!!
Please note we do not take General session bookings over the phone please visit our bookings page to make a booking. 
Gift vouchers are redeemable at the check out on our bookings page. When purchasing a gift card, please check the cart on the right hand side to ensure the amount and details are correct before paying. Please note we cannot refund gift cards if they are incorrect.
PLEASE READ THE FOLLOWING CAREFULLY BEFORE BOOKING OR VISITING OUR VENUE.
CONDITIONS OF ENTRY: 
-People wearing casts or are pregnant are not allowed on our equipment 
* Based on our Trampoline manufacturer's safety standards the weight limit for an individual Jumper can not exceed 120kgs and 140kgs for our Clip n Climb walls. 
OUTSIDE FOOD & DRINKS- ARE NOT PERMITTED INSIDE JUMP&CLIMB, WATER BOTTLES EXCPETED 
– No refunds for change of mind in any activities
– Tickets are non- transferrable 
– ANYONE USING OUR EQUIPMENT NEEDS TO HAVE A PAID TICKET AND WRISTBAND
-Jump&Climb Grip socks are compulsory for your jump session
-Enclosed toe shoes must be worn for climbing 
-For hygiene and safety, no shirtless participants  
– Children 12 years and under must be supervised by a parent/guardian at all times whilst visiting Jump&Climb. Supervising guests do not need to pay entry, they are welcome to watch and spectate for free, however, any visitor who is actively using equipment will be required to pay entry. For children who require closer supervision, we recommend purchasing a ticket so that you can join them.
– Children cannot be left in our venue without parent supervision unless they are 13 years or older. We are not a child minding facility, direct parent supervision all times
-All participants need to be able to follow verbal directions and instructions and are able to use the equipment on there own. It is a safety requirement that you cannot jump with children or any participants in your arms. 
-Toddler area (under 2 year of age) starts on the hour like our General sessions and a ticket can be purchased instore, please note parents can be supervising in this area but must NOT Jump on any of the trampolines for the toddlers safety. Supervising adults in the toddler area do not need to purchase a ticket . Socks only in this area
– Rude, disrespectful, abusive behaviour towards our staff will not be tolerated. It is your responsibility to read the conditions of entry before purchasing a ticket a Jump&Climb.
-If you have been feeling unwell, have any COVID symptoms or are a close contact, we ask that you please stay home.
-We do ask that visitors remain vigilant of the time and exit Jump&Climb promptly once your session is complete.
– Please note our carpark is a private car park and the front gates are closed and locked when we close. Any vehicle's left unattended in our carpet will be closed within the gates if the owners are not in attendance. 
---
    Important Information: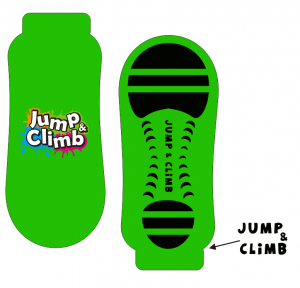 *Our Jump&Climb socks have been tested for our trampolines, and as we cannot guarantee the same level of quality in alternative socks, we do not allow other brands to be worn. Once purchased, they are yours to keep to be used again at all subsequent visits. Please note your Jump&Climb socks need to be in good condition to access our trampolines, free from holes or lack of grip if this occurs our friendly staff may ask you to purchase a new pair for your safety. 
*Sneakers must be worn for climbing and all climbers under the age of 12 need to be accompanied by an adult or guardian.
*Participants must be in good health and free from any adverse medical conditions. For safety reasons, pregnant women, customers with pre-existing health issues or wearing casts are not permitted on the trampolines, the wall, bag jump or any other equipment. If in doubt please seek medical advice.
*Due to OH&S no outside food can be brought into the Venue; except Birthday Cakes for booked Jump&Climb parties and water bottles. Barista coffee, drinks & snacks available for purchase!
* Children cannot be left in our venue without parent supervision unless they are 13 years or older. We are not a child minding facility, direct parent supervision all times