Open Friday, Saturday, Sunday & Monday from 10am through school terms & 7 days a week on school holidays!
Open 10am-3pm
(days with high temperatures we may close earlier for the health & safety of our staff & patrons please check bookings page, these sessions will be blocked out)
Please call or email info@jumpandclimb.com.au for school group bookings 🙂
Welcome to                                                                                         

Gippsland's only Indoor Trampoline & Clip n' Climb Park!!
In addition to a world full of trampolines & climbing walls, our park has 50 trampolines including Australia's biggest trampoline 5 meter x 5meter &16 Clip n 'Climb climbing walls, whether you like to beat your mates in a game of dodgeball, run the wall in our High Performance area, jump into our huge airbag or have  free jump time in our jump arena or clip up & challenge yourself on our climbing walls. Our park surely has it all!
we cater  for individual bookings, School groups, Social clubs, Sporting clubs, Birthday parties & more
Bookings are highly recommended , please click the book now button to book!!
Please note we do not take General session bookings over the phone please visit our bookings page to make a booking. 
To redeem gift vouchers please visit the gift voucher page.
PLEASE READ THE FOLLOWING CAREFULLY BEFORE BOOKING.
-All Refunds occur a 5% administration fee
-All Covid Lockdown bookings are only valid to reschedule for 12months from the date of original booking
– Rescheduled bookings are only valid for 1 month
CONDITIONS OF ENTRY: 
* Based on our Trampoline manufacturer's safety standards the weight limit for an individual Jumper can not exceed 120kgs and 140kgs for our Clip n Climb walls. 
-OUTSIDE FOOD & DRINKS ARE NOT PERMITTED INSIDE JUMP&CLIMB, WATER BOTTLES EXCPETED 

– No refunds for change of mind in any activities

-Jump&Climb Grip socks are compulsory for your jump session
-Enclosed toe shoes must be worn for climbing 
-For children who require closer supervision, we encourage parents to purchase a ticket to participate with them 
–All participants need to be able to follow verbal directions and instructions.
-Parents/guardians/carers must be actively supervising their child/children at all times.
– Spectators are NOT allowed on any of the equipment or padding ( Please remain on the black rubber flooring only) 
-If you have been feeling unwell, have any COVID symptoms or are a close contact, we ask that you please stay home.
-We do ask that visitors remain vigilant of the time and exit Jump&Climb promptly once your session is complete.
---
    Important Information: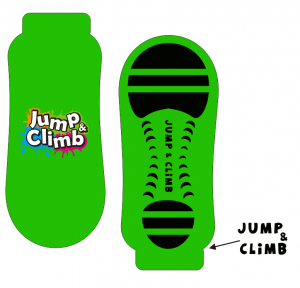 *Jump & Climb approved grip socks must be worn to access all parts of our trampolines, NO OTHER TRAMPOLINE PARK SOCKS ARE PERMITTED IN JUMP&CLIMB.    
*Sneakers must be worn for climbing and all climbers under the age of 12 need to be accompanied by an adult or guardian.
*Participants must be in good health and free from any adverse medical conditions. For safety reasons, pregnant women, customers with pre-existing health issues or wearing casts are not permitted on the trampolines, the wall, bag jump or any other equipment. If in doubt please seek medical advice.
*Due to OH&S no outside food can be brought into the Venue; except Birthday Cakes for booked Jump&Climb parties and water bottles. Barista coffee, drinks & snacks available for purchase!
* Children cannot be left in our venue without parent supervision unless they are 13 years or older. We are not a child minding facility, direct parent supervision all times