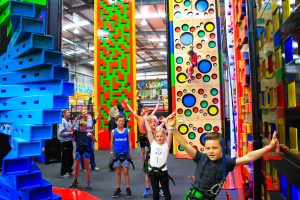 Like to climb?
Why not challenge yourself on our Climbing walls? Clip 'n' Climb is a fun & safe way to climb that really gives rock climbing a new experience.
With our auto belays it really makes climbing fun & easy for ages 4 and up. We have 16 climbing challenges to complete, from our Big cheese, dark tower or stairway to heaven you are sure to be thrilled and challenged at the same time.
Our climbing walls may look friendly but with three levels of difficulty on all of them we are sure it will challenge the best of you monkeys!! 😆 
Climbing is a 1 hour duration and a safety briefing is included in the hour
         *All climbers must wear sneakers and comfortable clothing.