Jumping (Ages 2 +)           
Single Jump PP for 1 Hour: ……….$19.00
Junior Jumper (2-4years)  PP 1 Hour: ……… $14.00
Toddler area only (under 2 yrs old)  1 hour___________ $5.00 (instore only)
Junior Jumper-  (Jumpers 2 years of age need to be accompanied by a adult Jumper for safety)
*Junior Jumpers do not have access to the high performance area as height & skill restrictions apply.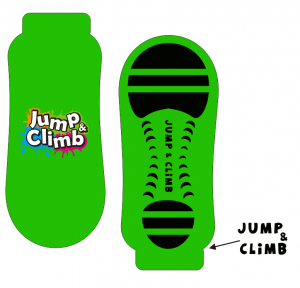 Jump&Climb Grip Socks*: ………………..$3.00
* Jump&Climb grip socks must be worn for your health & safety, and are yours to keep for future visits.
---
Climbing (4 years +)     
(Includes safety briefing)
Single Climb PP 1 Hour : …….$19.00
#NB Don't forget to wear runners and comfortable clothing you can harness up in.
---
Jump&Climb Combo                                              
1 hour each activity
*Runners required for the climbing hour, Jump&Climb grip socks compulsory for the trampolines 
(2hrs duration & jumping must commence first)
Single Jump&Climb Combo PP: ………………………………………………. $33.00
*PRICES  SUBJECT TO CHANGE WITHOUT NOTICE 
---
 Registered Group/School Bookings*
Groups of 15 or more people can book and receive a 25% discount.
Group Bookings* are only available Monday to Friday (Excluding public and school holidays) and on the condition that a $100 deposit is paid at the time of booking.
* Registered Groups Only
* Discount only available during normal opening hours
Please note: We do not accept individual payments for group bookings, it must be paid in one transaction.
email info@jumpandclimb.com.au  for more info
---
---
More information regarding our Party Packs can be found on our Parties page