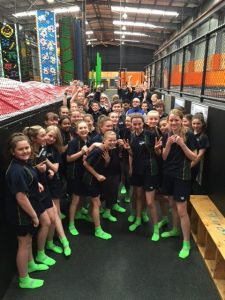 Wanting to take your next P.E session to new heights?
Jump&Climb is the answer!!
Our team of highly trained staff  can provide your students with an opportunity to enjoy rebound exercise or climbing challenges where the health benefits are endless and it's a movement experience like no other!
Students lacking motivation? being an indoor Trampoline & Rock Climbing centre we will provide your students with a fit and fun way to exercise, as well as release all that energy build up from sitting in the classroom. Here at Jump&Climb, having a P.E session here really benefits students that are not motivated in general sports, everyone can Jump on a trampoline & the best part about it they will all enjoy the experience together as a group.  
Jump&Climb welcomes school groups of up to 70 students for a 1 hour Jumping session or 30 students for a 1 hour Climbing session throughout the Victorian school terms.
The Jump&Climb Team can cater to your group size, age and experience level. Guided sessions or free-jump sessions are available. Students will be supervised at all times by our Trampoline Deck Supervisors & Climbing instructors. Whatever your needs may be, Jump&Climb will work with you and your school group to put together a session that meets your requirements. we can provide sessions that include a variety of  Jumping areas and activities suited for all kids, the team at Jump&Climb will encourage even the shyest of students to participate in all the fun and have a great time! with 50 trampolines & 16 Climbing walls we can  host dodgeball tournaments, Fitness classes or structured climbing sessions. Its great for confidence in students & work within a team environment. Here at Jump&Climb we tailor activities to your student's ages, individual fitness levels and capabilities.
If you need further information prior to booking your school group please contact us for a School Information pack that includes risk assessments, attendance sheets and more.
email us at  info@jumpandclimb.com.au or call 5174 3944